I Heart Cupcakes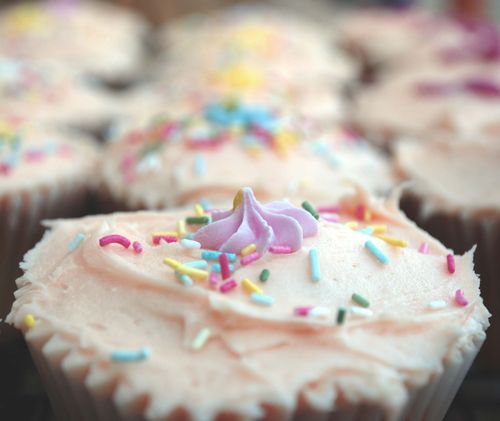 This is the Cupcake recipe I've been using for a while, I baked these ones a few weeks ago but it's taken me a while to put the pictures and recipes up (sorry!).  Cupcakes are one of my favourite things to make, probably because you can get away with being amazingly over-the-top and girly when decorating them!  However I am still in search of the perfect recipe as I think this one doesn't taste cupcakey enough? Does that make sense? What I mean is that they taste too much like fairy cakes, they don't have that cupcakey taste, God I sound crazy!! So anyway, I'm going to scout down some more recipes and try them, I'll put them all up here as I go and give my verdict.  If anyone knows of any good recipes please let me know! It would be much appreciated! I am also very tempted to buy the Hummingbird Bakery Cookbook!! 
INGREDIENTS
(for 20 small or 12 large cupcakes-I personally like large ones baked in a Muffin tin)
250g Unsalted Butter
250g Caster Sugar
250g Self-raising flour
4 eggs
cupcake cases, muffin or cake tin
ICING
200g unsalted butter
200g icing sugar
rose water to flavour (optional)
red food colouring (optional)
TO MAKE & BAKE
Preheat oven to 170 'C (150-160'C for fan assisted)
Cream butter and sugar in large bowl until white and fluffy
Beats all eggs in a cup
Slowly add eggs into mixture whilst folding in flour
When thoroughly mixed fill you cupcake cases
Bake for 20 minutes
(as you can see it is all rather simple)
Once removed from oven leave to cool on wire rack
For the icing, beat the butter and sugar together until smooth
Add flavouring and colouring as you wish
Decorate your lovely cupcakes as you wish
I like to use sprinkles, crystallised rose petals and many other little treats
Miss English Rose
xxx

Explore posts in the same categories:
Recipes
Tags: baking, cakes, cupcake, cupcake recipe, icing
You can
comment below
, or
link to this permanent URL
from your own site.
One Comment on "I Heart Cupcakes"