Margot, Margot, Margot Tenenbaum
I adore any Wes Anderson film, but especially The Royal Tenenbaums.  I find Margot one of the most interesting and multi-layered characters.  Love the kohled eyes, sleek hair and fur coat especially!  Also makes me understand completely why it is perceived as 'cool' to smoke, same effect as Audrey with her cigarette holder in Breakfast at Tiffany's.
Miss English Rose xxx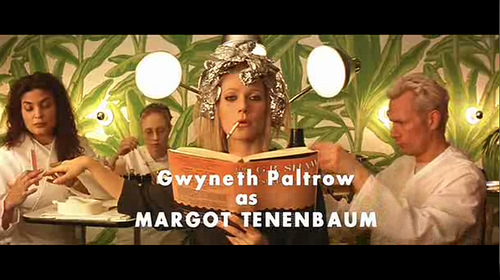 Explore posts in the same categories:
Fashion World
,
Idols & Icons
,
Inspiration
,
Lights, camera, action
This entry was posted on August 10, 2009 at 8:08 pm and is filed under Fashion World, Idols & Icons, Inspiration, Lights, camera, action. You can subscribe via RSS 2.0 feed to this post's comments.
Tags: fashion, film, gwyneth paltrow, margot tenenbaum, style, wes anderson
You can
comment below
, or
link to this permanent URL
from your own site.