Vintage Inspired Beauty Find of the Month!!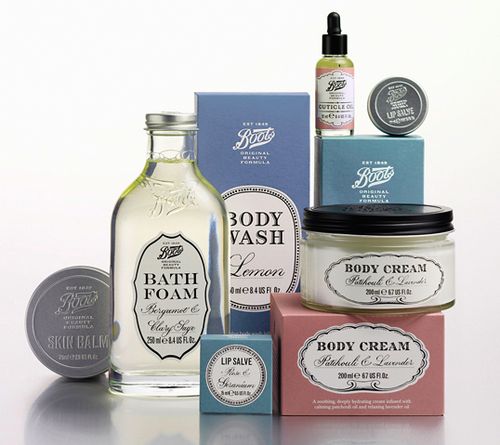 A few weeks ago I was checking ou one of my favourite blogs Queens Of Vintage and I came across this very interesting article about modern/vintage inspired skin care.  Now my skin is fairly normal but I constantly think about all the lotions and potions available these days and its just so mind boggling.  I've always been rather intrigued about how the ladies of my favourite past decades looked after their skin.  They always look so luminous in old photographs and they didn't have the benefits of today's photoshopped society so they must have been doing something right! Now I've tried many expensive brands, clarins, clinique etc etc and I never really find them any more spectacular that the more cheaper ones (although I do like Clarins water-comfort peach cleanser)…..So anyway after checking out this article I popped into Boots to have a look at their new Original Beauty Formulas range.  It's all inspired by the popular products they used to sell many moons ago with vintage inspired packaging to boot (I'm a sucker for nice packaging).  I've been using the Rose Vanishing Cream for a couple of weeks now and it is AMAZING!  I am an impatient girl in the morning and hate waiting for my moisturiser to soak in before I apply my make-up.  Well this moisturiser does exactly what it says! Vanishes! Straight into your skin leaving it soft, supple and glowing.  I definitely recommend! Oh and apparently the products also have the Queens approval….well if its good enough for her!!
Miss English Rose
xxx
p.s. article about the products on teen vogue US
p.p.s Also another retro kind-of-product that I love is Marks and Spencers Rose roll-on anti perspirant, it is amazingly good at keeping me smelling of roses all day!! and only £1.75!!!
Explore posts in the same categories:
Beauty
,
Days Gone By...
,
Miss English Rose Style
Tags: boots original formulas, skincare, vanishing cream, vintage
You can
comment below
, or
link to this permanent URL
from your own site.
2 Comments on "Vintage Inspired Beauty Find of the Month!!"
January 20, 2010 at 3:38 am

It's so lucky for me to find your blog! So shocking and great! Just one suggestion: It will be better and easier to follow if your blog can offer rrs subscription service.

January 25, 2010 at 9:47 pm

Hi thanks so much for your comment. I though I did have rrs subscription on there, are you sure you couldn't find the link?