Jelly Shoes!
I have been looking for jelly shoes for a very long time!! Now I don't mean modern gladiator style ones that they sell in Office or the likes of, I mean PROPER jelly shoes.  Ones that you use to run around in on the beach when you were little.  I don't know why I've wanted them so badly, maybe a wee bit of nostalgia, or maybe just because I remember them being damn cool Summer shoes!! Anyways I have hunted in a many seaside town for them and they never had adult sizes.  Also the arrival of Crocs (awful, awful things) seems to have diminished the original jelly shoe population even more.  Call me stupid but I never really thought to look on-line (I know crazy!), however the other night I did and hey presto jelly shoes I found and in an array of colours! Pink, clear, black, silver glittery and yellow.  So I have hastily ordered myself a black pair as I thought the silver glittery might just be a tad too childish and border from nostalgic to just plain creepy!  I am now hoping that the sun will come back for just a little longer so I at least get to wear them!!
xxx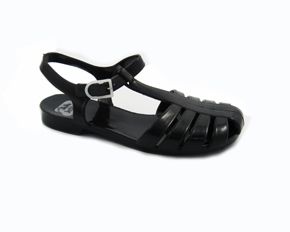 Explore posts in the same categories:
Days Gone By...
,
Fashion World
,
Miss English Rose Style
Tags: Beach, Holidays, jelly shoes, nostagia, style, summer
You can
comment below
, or
link to this permanent URL
from your own site.