Lisa Freemont-Vintage Hair Techniques
This lady does very good vintage hair tutorial videos on You Tube! I found her after reading Elinkan blog (she is just beautiful don't you think!) and I've been going through all her videos this morning and she really knows what she's talking about! Check them out here!  Also check out her blog where she reviews products as gives more handy tips.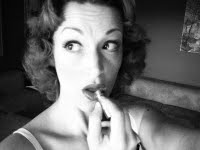 Explore posts in the same categories:
Beauty
,
Days Gone By...
,
Idols & Icons
,
Inspiration
This entry was posted on September 24, 2009 at 11:40 am and is filed under Beauty, Days Gone By..., Idols & Icons, Inspiration. You can subscribe via RSS 2.0 feed to this post's comments.
Tags: lisa freemont, styling, vintage, vintage hair, you tube
You can
comment below
, or
link to this permanent URL
from your own site.